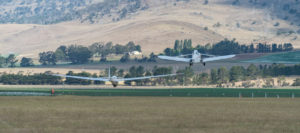 Craig King took our Pawnee tow plane to Merimbula in southern NSW for its annual maintenance last week. It was an uneventful trip (apart from a very frosty Tuesday morning start out of Launceston airport). We had to rotate the plane several times on the ground to encourage the sun to melt the thick frost on the wings.
The tug is now back in our hangar at Woodbury with a clean bill of health and ready for a busy soaring season.
Thanks Craig for giving up a week of your holidays to do the two ferry flights and work as an assistant to the maintenance Engineer.